Ladypool primary School is a good school.
"Pupils make good progress in reading, writing and mathematics. Pupils enjoy their learning and develop the skills necessary for the next stage in their education."
We are very pleased to announce the results of our Successful OFSTED inspection! We have been graded as being Good and the report written by the inspection team reflects the hard work of both staff and pupils in achieving this. Please download the full report here.
Welcome to Ladypool Primary School
Welcome to Ladypool Primary school and thank you for taking your time to find out more about us. Ladypool is successful in raising standards and providing good quality education in a safe and happy environment.
I am proud to be the head teacher here. What you will find at Ladypool are enthusiastic and well behaved, smart pupils who strive to do well in everything they do every day. Our staff are a Professional committed team who work hard to be the best practitioners in their field. They build very good relationships with pupils which ensure they are happy to come to school all the time.
We are lucky enough to have outstanding provision for our parents. Our wonderful Parent Support Advisor works tirelessly to meet the needs of our whole community. The community room is a hub of excitement with classes of all types and a technology learning zone.
Name the Bear competition results are in!
Well done to Haleema in 3P for choosing the name Trixie for one of our Attendance Bears and to Naelah, Omear and Sana in 3L for choosing the name Max for the other bear.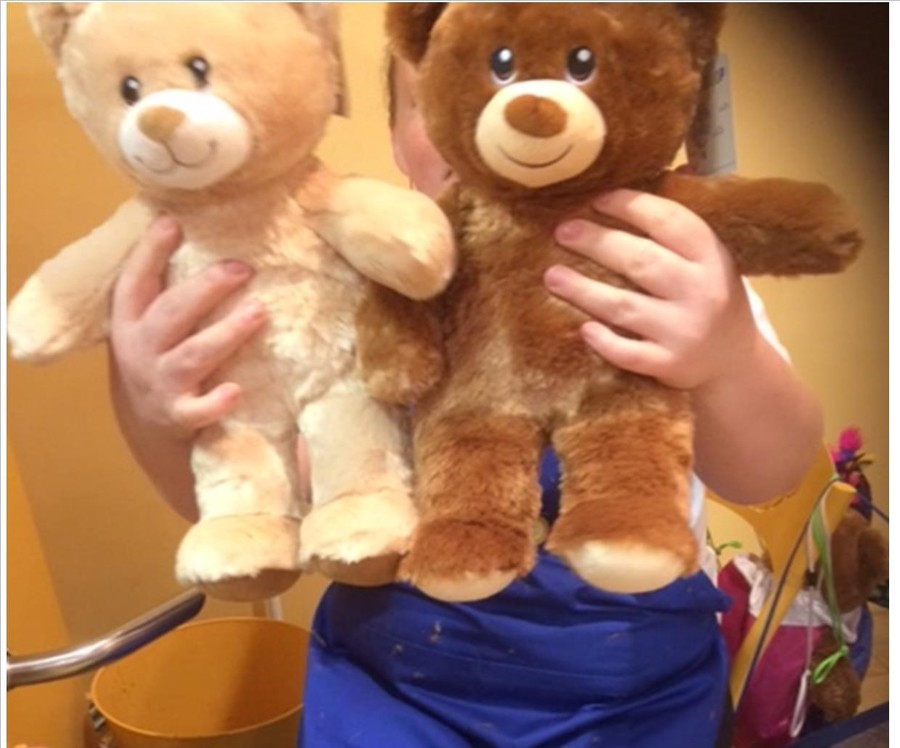 Ladypool Primary School children are tour guides for a day.
On Thursday 9th March over 200 children, staff and parents visited the Shakespeare Birthplace Trust in Stratford Upon Avon for the day. They were shown around by some very special guides: 33 of our Year 5 children who had trained for the role with the help of the Education Staff at the trust. The sun shone and everyone enjoyed learning more about the life and times of one of our greatest playwrights. The new guides grew in confidence as they developed their presenting style, alongside their mentors and soon were at home talking to other schools and visitors from around the world. The parents also enjoyed seeing their children taking on this responsibility and loved walking around the beautiful grounds of the New Place.
Years 4,5 & 6 can now all write with a quill, make a seal for a letter and tell you many facts about Tudor and Elizabethan life. For Year 6 it was a great opportunity to revisit their learning from last year, for Year 5 they deepened and shared their current learning and for Year 4 it was a taste of what is to come as they move into the upper school. This educational visit was funded by the Department for Education and the Birthplace Trust with a contribution from the school.
we had a visit from local poet Adaya Henry. She read a poem which she had written for us.
Birmingham Mail Rates Ladypool Primary School!!!!!
We are proud of our children's performance at all key stages. The table below shows how many of our children reached the expected standard in reading, writing and maths in 2016. Click on the image below to redirect to the full Birmingham Mail article.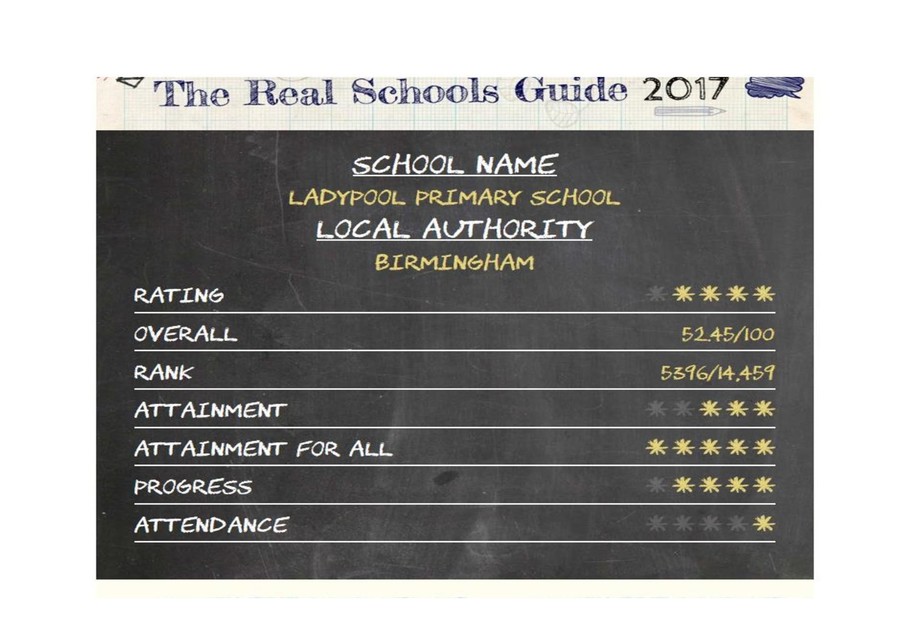 Latest Calendar Events
There are currently no events.
Calendars page(s): Calendar >>
Comments (8)
Show Comments
Geraldine from The Blue Cross Education
(less than a month ago)
Thanks for inviting me along to your two assemblies this morning. We ran out of time with KS1 so I hope the children were able to enjoy it enough and learn a little something. All the children were so well behaved and really eager to participate. They are very intelligent and such a great group to talk to. You have a lovely school and everyone was very welcoming and supportive.
molly
(less than a year ago)
this school seems really great if i wasn't 18 i would so want to come to this school LOL xox
Zakia Naz
(less than a year ago)
Ladypool School is an amazing school, I have enjoyed every second of it but sadly the time has come for me to leave this place!!
Shreen Manifold
(less than a year ago)
Ladypool Primary School is such an amazing school. Throughout the past 5 years that I have been attending this school, I have enjoyed every little second . Unfortunately, the time has come for me to leave. I will miss all teachers!!!!
Ruqayyah Ali
(less than a year ago)
Ladypool school is an amazing school I have had so many opportunities and enjoy every minute of learning.
Nabela Mughal
(less than a year ago)
Dear Mrs Aslam I am writing to let you know how impressed I was with the children and the staff of Year 5 on the recent trip to the Globe Theatre and the Houses of Parliament on Friday 17th March. As a parent helping out on the trip I was amazed at how carefully the trip had been planned from start to finish. All credit goes to the staff involved and especially Mrs Miller who planned the trip with every small detail being taken into consideration. The safety of the children was a top priority throughout the day. It was a very enjoyable but educational trip and the children were fully involved in all the activities. The children were very well behaved and also showed interest in everything that they did. I was also impressed by the knowledge displayed by the children. They had excellent understanding about Shakespeare's work and the Houses of Parliament. It was a long day but the children enjoyed every moment. The children also received many compliments throughout the day. I felt very proud being part of the group. I would like to thank Mrs Miller and the school for giving me the opportunity to help out and take part on this trip. I would also like to thank the following teachers - Miss Butt, Mr Ahad, Miss Twaite, Mrs Mockbil, Mr Mahmood, Miss Ara, Miss Adeena, Miss Shaheen and Miss Kabeer who helped out on the trip. Nabela Mughal
Sajida Parveen
(less than a year ago)
You get a chance to go to a trip with your child.There are kind teachers.As a parent I enjoyed the London trip and Strattford trip.It was very exciting to go into the houses of parliment and it was first time going there.
Jean Scouse
(less than a year ago)
My husband and I visited Shakespeare's Birthplace yesterday where your Year 5 were guides for the day. We were entranced by the involvement, enthusiasm and knowledge of these very engaging your people. We can only wish you all the greatest success - the staff who worked on and initiated the project and the students who did such an excellent job. Thank you for making our day! Jean Scouse
This school is committed to safeguarding and promoting the wellbeing of all children and expects staff and volunteers to share this commitment.