Here at Ladypool, we are working hard to invest in our pupils to become future leaders. To help our students grow and lead in all areas, some of our pupils have been selected to become Play Leaders. A Play Leader is a pupil who is responsible for organising small, fun games for younger pupils at break and lunch time to help them become more physically active. Play Leaders are also responsible for looking after equipment by giving it out and collecting it in. By becoming Play Leaders, our students are developing skills including organisation, communication, punctuality as well as gaining more confidence!
On your bike!
Ladypool is proud to have had two year groups (Years 4 & 6) take part in Bikeability. These tutor-led cycling sessions allow our pupils to learn basic and intermediate riding skills including using hand signals and riding through our local area! We hope our children will continue to build on their newly acquired skills so they can enjoy a healthier lifestyle and learn an alternative mode of transport in a safe environment.
The instructors assessed the children on whether they were able to identify and respond to hazards, start and stop on road journeys, maintain suitable riding positions as well as negotiate junctions safely. They were also observed to see if they could comply with signals, signs and road markings and turn at T junctions and roundabouts.
This training was delivered and assessed according to the National Standards for Cycle Training.
Ladypool do swimmingly well!
When the COVID-19 pandemic hit Birmingham, schools were unable to take their pupils swimming. As a result, many children have never experienced learning the vital basic swimming skills. This year, our Year 3 and Year 4 classes have been enjoying learning how to swim. To see how they felt, read on!
'I loved swimming because it was fun exercise. I loved splashing and getting wet!'
Madiha 3L
'We learnt how to kick with our legs to stay afloat and I was even able to put my face and nose in the water. I learnt how to float on my back and I can swim on my front now.'
Musa 2L
'When I went swimming, I felt brave and wanted to show how much I learnt. I even showed my friends how to kick. It was fun!'
Iqra 2L
'Swimming was fun. The experience of floating and learning different strokes I really enjoyed. I especially like swimming on my back.'
Yad 4L
'I liked swimming because we learnt lots of skills.'
Ragad 4P
Commonwealth Games
As Birmingham prepares to welcome the world to compete in the Commonwealth Games 2022, here at Ladypool school, we created our very own version of the exciting competition which included cricket, basketball and hockey! The children enjoyed the activities which saw classes from KS1 and KS2 win gold, silver and bronze medals. To acknowledge and reward good sportsmanship, all of our pupils were given a sticker to commemorate their very own special sports day!
Ladypool Is Aiming For Gold!
Ladypool Primary has now been awarded a 'Pathway to Podium' SILVER certificate in recognition for the ongoing work into improving PE across the school. The Pathway to Podium initiative has been designed to recognise and encourage schools' contribution to Physical Education, school sport and physical activity (PESSPA).
We are continually looking at ways to improve PE for both students and staff alike and work closely with Sport Birmingham, Youth Sports Trust and School Games Organisers to ensure we build exciting opportunities for all.
Ladypool is 'bowled over' with fun cricket sessions!
Ladypool pupils were fortunate to receive some cricket training from a Warwickshire Cricket Board coach. The ks2 pupils were shown how to warm up correctly before practising their batting, catching and fielding techniques. Our children were surprised at how much they improved in such a short period and would continue to develop these new skills in their PE lessons.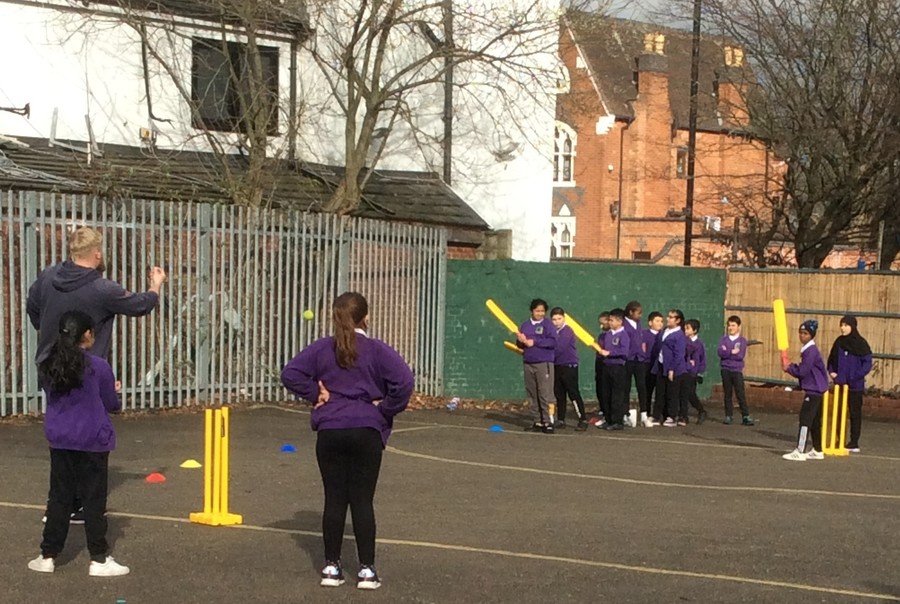 Ladypool finds 'Time To'...
As part of our ongoing commitment towards our children's health and well being, Ladypool has invested in 'Time To' booklets for each of our pupils. These booklets focus on exercise, mindfulness and yoga to enable our students to actively develop healthier lives. The children are able to use their planner to record their targets, memorable moments and activity times on a daily basis. They also contain advice and tips on managing their diets and ways to improve concentration and focus using calming techniques. We hope our pupils can continue this journey at home with their families.